HRM Human Resources Management
The HRM tool of ovaSOFT's CM system contributes to the optimization of workflows in the HR department and to the transparency of HR processes. The software supports HR processes in planning, recruitment, HR development, support, organization and documentation. The digital personnel files is the heart of the software. It provides all the information you need about your employees with a single click.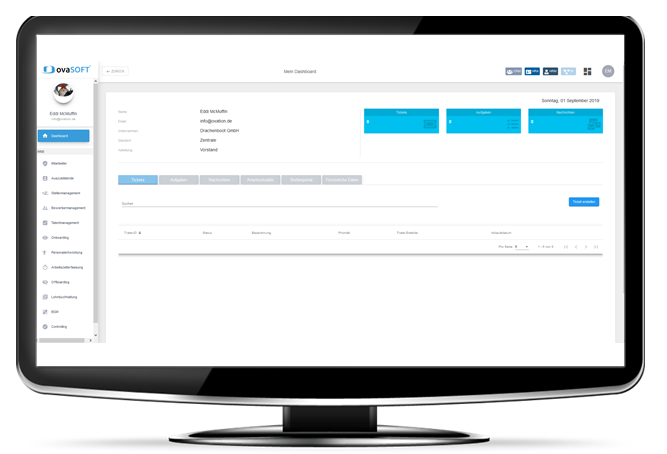 In the dashboard, each employee can add, display and change their own personnel-related data or start approval processes. By giving employees access to their own data and processes via the dashboard, HR administration processes are simplified, accelerated, standardized and interfaces for data queries by authorities are made possible.
In addition, employees carry responsibility for the actuality and accuracy of their data.
Successful projects are directly related to flawless business processes, because only if your company is efficiently organized you can achieve the highest results. Our intelligent ticket system helps you with administrative company management and project control, so that you can easily organize the tasks in your company with different tickets.
Functions HRM – Human Resource Management module
Workplace health management
Benefit from the numerous advantages and test the software for 14 days free of charge.
Everything at a glance
Intuitive
Cross-site
Support employee retention
Fast introduction
Data protection according to European GDPR
DATA PROTECTION ACCORDING TO European General Data Protection Regulation

Data protection and information security are central aspects of ovaSOFT's products and services. The protection of your data and your trust are very important to us. Therefore, we have implemented technical and organizational measures to ensure the security of the processing, which we continuously develop further.
Software from ovaSOFT meets all requirements of the European general data protection regulation and is data protection compliant as an organisation and as software according to EU-GDPR.